13 Reasons to Drive to Palm Springs
Rest, relaxation, and happy hour await you in the desert.
SoCal winters may not cause locals to flee toward warmer weather, but it does remind us that now is a good time to visit Palm Springs. This time of year is the sweet spot where it's not too hot during the day and the nights are perfect for a dip in a hot tub. Covered in kitsch, with a culture that encourages you to day drink and lay by a pool all day, it's no wonder that the desert town has long been a refuge for weekend warriors looking for an escape. Bonus: You can pack up and drive, and be there in less time than it takes to binge a new Netflix series.
Palm Springs is home to a vibrant LGBTQ community-including the nation's first all-LGBTQ city council-plus art and culture, as well as an abundance of mid-century modern architecture. A field of wind turbines welcome you to town, and once you're there you'll be welcomed by leaning palm trees and craggy mountain ranges that keep inspiration flowing. Here you can find warm weather, outdoor activities, and an abundance of restaurants and shops. You'll also find plenty of opportunities to lounge poolside and do close to nothing, if that's more your vibe. Use our recommendations below to craft your perfect weekend. You deserve it.
Editor's note: The city of Palm Springs requires proof of COVID-19 vaccination status or a recent negative COVID test result for entry into the city's indoor bars and restaurants. Make sure you plan accordingly.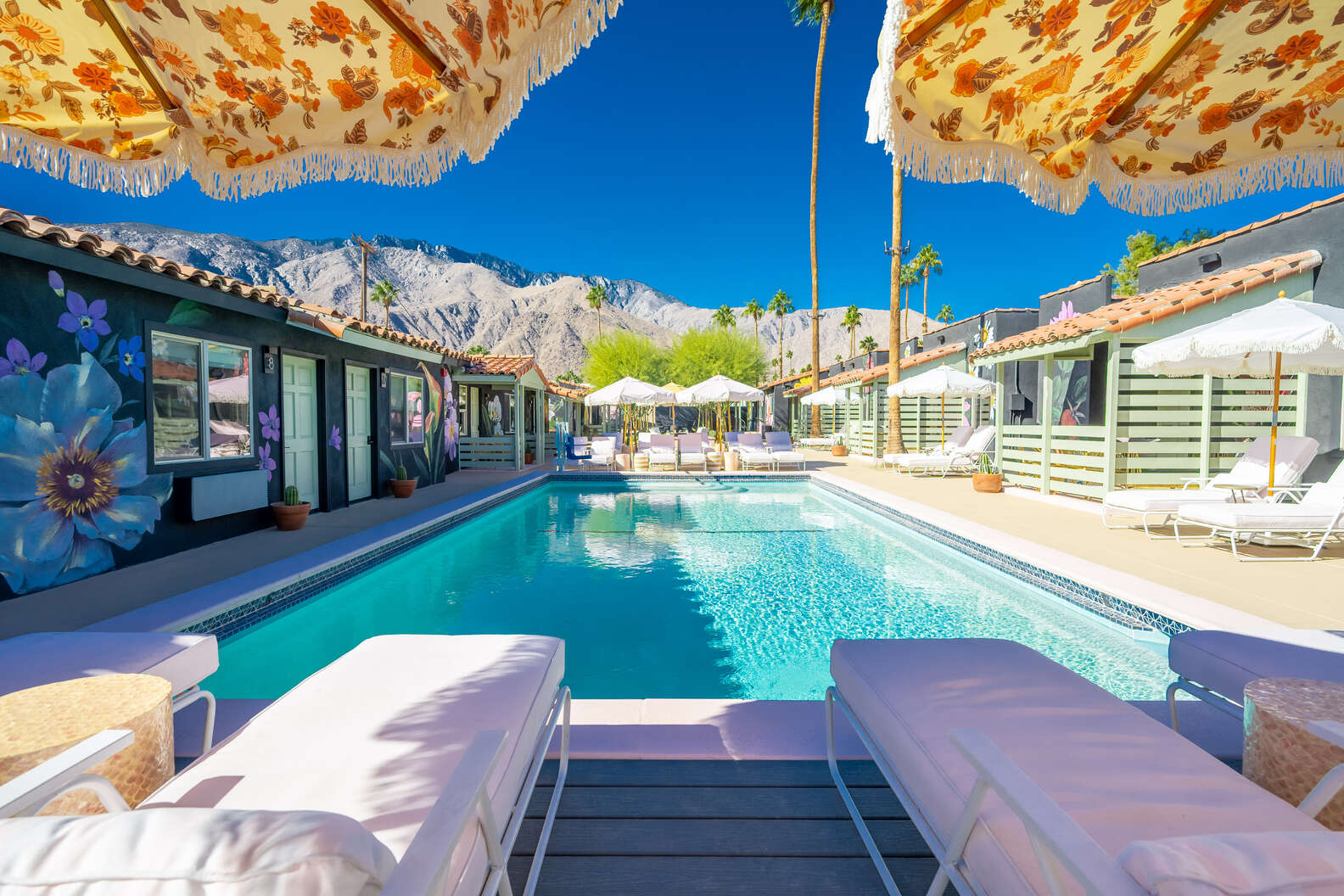 Chill out in style
So you decided to make the good choice to spend a weekend in Palm Springs and need a place to stay. Sure, you could go the Airbnb route, of which the town has many. Or you could enjoy the luxury and amenities of one of Palm Springs' beautifully designed hotels.
If you're traveling with a whole posse, consider the boutique hotel, Limón. Their interiors are bright, cheery, and inspired by mid-century modern and 1960s Mexico City. The seven-room property books as one unit and can accommodate you and 13 of your pals. It includes a communal kitchen, an entertainment room, pool, and BBQ area. During your stay, let their staff take the wheel and plan your days. They can assist in creating the perfect stay, like a night out for a bachelor/ette party, a hot air balloon excursion, or a personal chef to cook for you and your crew.
For those looking for an intimate stay for two, try the adults-only hotel, Dive. It's hard not to feel romantic in their elegant rooms inspired by the 1960s French Riviera. Personally, we fell in love at "free glass of rosé upon check-in." During Valentine's Day weekend they will up their complimentary glass by offering a complimentary bottle of French Pool Toy Rosé and two chocolate-covered strawberries per room.
You can't miss Fleur Noire, with its black exterior that makes it stand out amongst Palm Springs' otherwise brightly colored architecture. The interiors feel airy, modern, and are punctuated with wallpaper bearing large floral prints. The property consists of an array of casitas, studios, and standard rooms surrounding the communal pool. The hotel is near Palm Springs' famed Palm Canyon Drive with shops and restaurants. However, if you want to stay a bit closer to your home-tel, you can access Sandfish Sushi & Whiskey through their back gate. Try their signature Black Mussels served with hijiki seaweed, scallions, and miso sake broth. On the Fleur Noire property, you can grab a drink at their rosé and champagne bar, La Boisson.
Aptly named Tiki Hotel is a nod to the 1950s & '60s affinity for tiki culture. If you don't like kitsch and bold design, this is not the place for you. The 11-room property boasts island-themed decor, with vibrant colors and patterns galore. You can lounge by their pool or jump on one of the provided beach cruisers to explore the Palm Springs Design District and nearby shops and restaurants.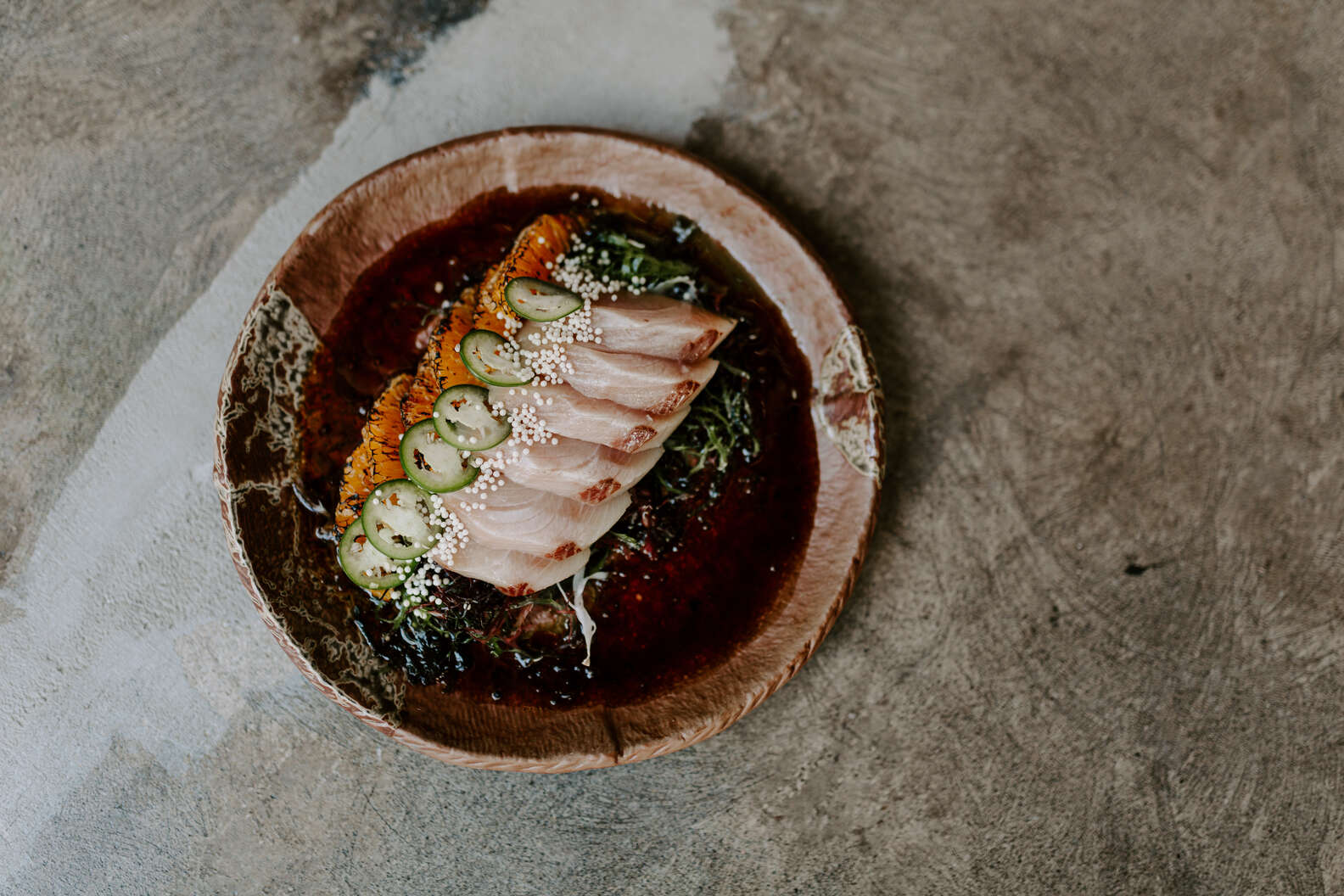 Try out the Palm Springs food scene
At some point you might want to stop taking your food and drinks poolside and head into a restaurant. Palm Springs has something for everyone and at least one restaurant for the dogs. Boozehounds makes you wonder: is this a dog-friendly restaurant or a human-friendly dog restaurant? Either way, we're all in! The restaurant has a large patio perfect for your pooch or if you prefer to dine sans dog, they have an indoor dining area. They serve a wide selection of food, from Japanese yellowtail to a Double Cheeseburger, all inspired by Southern California. They even have a menu just for dogs. with items like a bowl of skirt steak, steamed rice, and sweet potato. As the name suggests, they have a great selection of booze in the form of cocktails, wine, and beer. Not to leave dogs out, you can order your fur baby a weenie-teenie, a concoction of chicken broth, chicken whipped cream, and a dog biscuit crumble. Non-alcoholic, of course.
Eat brunch or lunch outdoors at El Patio, a family-owned Mexican restaurant. Try the Breakfast Enchiladas that come with squash, spinach, corn, cheese, and topped with your choice of green or red sauce and two fried eggs. Or opt for the Bone-in Chicken covered with mole poblano and pipian sauces, garnished with red onion, sesame seeds, and pumpkin seeds. Make sure to save room for their churro cart that comes with three different dipping sauces and sprinkles.
One of the most exciting restaurants in Palm Springs right now is Bar Cecil. The culinary commander of the place is Gabe Woo, a Coachella Valley native and local celeb known for his dinner series at Sparrows Lodge and Holiday House that were hard to get into. Woo takes bistro-style foods and expands on it while using seasonal produce from local farms. We can't promise you it'll be easy to get a table but we can say that their bar area takes walk-ins where you can order a juicy, flavorful burger and a delicious pork chop with a hint of smokiness. Or order from their "Why Not" menu where you can find swanky items like their infamous $50 martini-Beluga vodka with a kiss of Alessio vermouth is poured tableside in a perfectly chilled glass. The drink is served on a silver tray with a Regiis Ova caviar-topped deviled egg and a bowl of sunchoke chips.
Grab a cocktail or two
Drink across decades at Truss & Twine, a cocktail bar that celebrates the history of drinks in America. The interiors may be dark and dramatic, but their staff are friendly and happy to share their knowledge on libations with you. We recommend trying one of their original cocktails like the Game Changer that comes with gin, lime, cucumber, sugar, onion brine, sea salt, and celery bitters. They also serve food that does not resemble typical bar food fare, like their Wagyu Oxtail Grilled Cheese with cheddar, caramelized onion, and green chile aioli. For a mellow night, take a trip to the local speakeasy Seymours, located next to Mr. Lyons Steakhouse. Enter through the unmarked side entrance and step into a bar with chill vibes, moody lighting, and an intimate atmosphere with extraordinary bartenders. They also offer outdoor seating. Try their Oaxcan Hemingway with mezcal, maraschino liqueur, grapefruit juice, and simple syrup.
Take in the scenery
September through May, Fantasy Balloon Flights will show you the world… or at least the vastness of the Coachella Valley from the sky. Rest assured, the hot air balloon company has been at it for some time (since 1981 to be exact). For those that need a bit of liquid courage, champagne balloon adventures are available.
Hop on the world's largest rotating tramcar at the Palm Springs Aerial Tramway. The car takes you on a ten-minute ride up and along the cliffs of Chino Canyon for picturesque views of the desert until you arrive at your destination, Mt. San Jacinto State Park. At the top, there are places to grab food, observation decks, and over 50 miles of hiking trails. And if you go during the winter there's a good chance there will be snow.
Load up on new and new-to-you goods
Look for retro wares in the land of mid-century modern majesty. Palm Springs may not have invented the style but they sure do embrace it. Go on a vintage crawl on Palm Canyon Drive and gander at shops like Bon Vivant, Modernway, and Revivals. There you can find eccentric accents and mid-century modern furniture to buy or give you major design inspo. While you're around, you might as well spruce up your wardrobe at vintage boutiques like The Frippery, Iconic Atomic, and Bazar.
If you prefer to be the first owner of your items, check out the Mojave Flea Trading Post. Contrary to its name, the indoor department store features about 95% new and 5% vintage goods. Browse the stylish works of 40+ local artisans and find art, jewelry, clothes, natural beauty products, home goods, and more.
Support the LGBTQ community
For a bar that has a mission statement that is as good as its food, try Blackbook. Named after the black book in Nevada, a list of notorious people not welcomed in casinos, owner Dean Lavine explains, "We like to think that everyone has been on a blacklist at some point in time. Gay, bullied, racially excluded, Raiders fans, etc." The bar prides itself on being inclusive and welcoming to all, with some of the best food in Palm Springs. We're partial to their Palm Springs-style nachos, a version they invented that ensures every chip has cheese so no one is left with a cheese-less chip when sharing. We can't forget about their drinks. They have a full bar with the largest whiskey selection in the valley, with over 450 different bourbons, ryes, scotches, and international whiskeys, along with beers and other adult canned and bottled beverages.
After eating, sing your heart out at Quadz, where VJs are playing clips of beloved musical theater. You will have a great time at this lively bar even if musicals aren't your "thing." However, after a few of their notoriously strong and affordable drinks, you may be belting out Streisand with the best of them. Reserve a spot at Toucans and see a performance at Palm Springs' longest continuously running drag show. Drag shows are Thursday-Monday with a different theme each night. No matter what day you go, it's always a good time at Toucans, making it a favorite for tourists and locals alike, but pro-tip: Monday nights are free.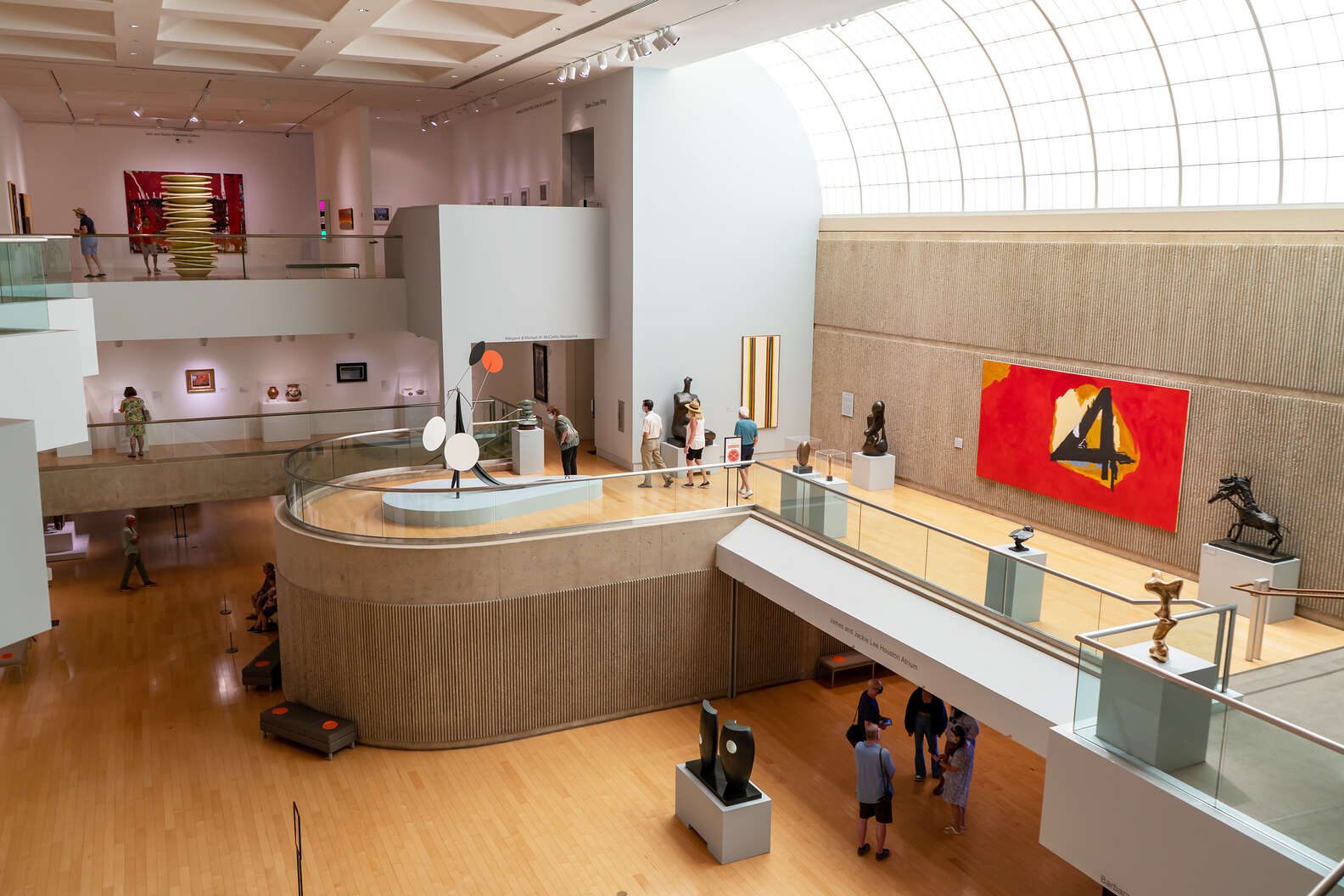 Get your art and culture fix
It may be hard to peel yourself away from basking in the sun, but take a break and explore the Palm Springs Art Museum. You can find modern and contemporary art, architecture, and design objects that reflect Palm Springs' unique history, culture, and place.
Recharge at a spa
Between work, existential crises, and living through a global pandemic, we all could use a relaxing spa moment. Book a massage at the Ace Hotel's Feel Good Spa. Try their Rose Goodness, where a masseuse will use quartz massagers to get deep into your muscle tissue. The use of rose quartz is said to help replace toxic emotions and blockages to the heart chakra with loving energy. Release tension and stress and gain clarity through a holistic treatment at The Spa at The Colony Palms Hotel & Bungalows. They offer a wide range of services, including massages, facials, body treatments, vibrational sound healing, and acutaping.
Go on a tour
Cruise through the desert landscape on two wheels (or by Jeep or by hiking) with Big Wheel Tours. If your interests are more architecture than nature, check out Modern & More Bike Tours and see architecturally and historically significant homes in South Palm Springs.
If biking is not your style, hop in Palm Springs Mod Squad's van and take part in a mid-century modern architecture tour. Choose the martini option to learn more about the cocktail and cap off your tour with James Bond's favorite drink. Their expert will explain why martinis are shaken and not stirred. They also offer socially distanced options for those that prefer to stay in their own car.
Hike historic trailheads
If you prefer to see the desert terrain by foot, Indian Canyon Trails offer a plethora of hiking options that include cool streams and lush oases. You may even see a BigHorn Sheep. Indian Canyons is the ancestral home of the Agua Caliente Band of Cahuilla Indians, and you can learn more about their history through preserved rock art, irrigation ditches, and food preparation areas.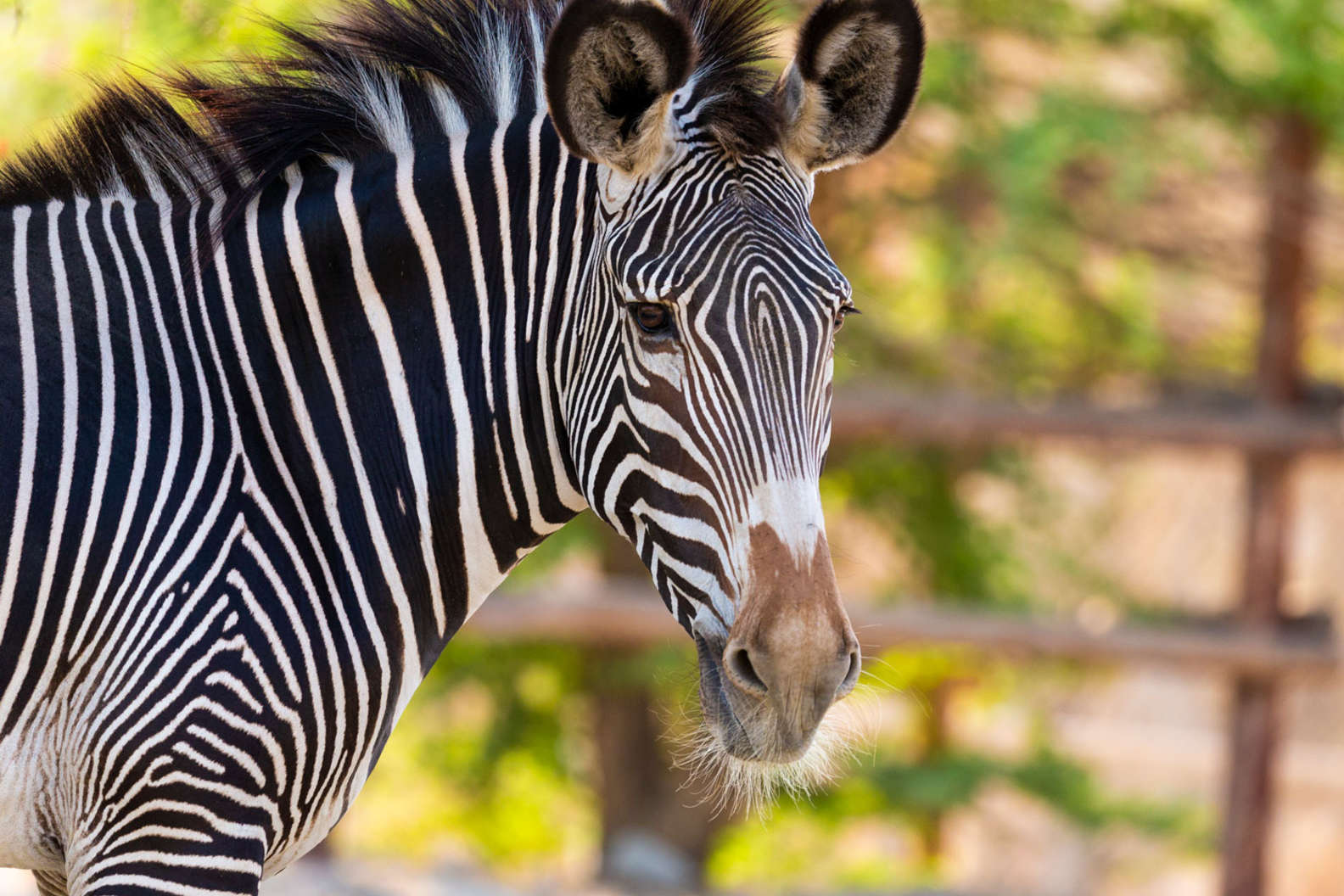 Explore desert plant life
See desert animals and plants thriving at The Living Desert Zoo and Gardens. The world-class wildlife and botanical park has almost 430 animals, including cheetahs, giraffes, and camels as well as creatures native to the area. After that, head to Moorten Botanical Garden aka Cactus Castle, and explore over a dozen arid biomes and thousands of specimens sourced from all over the world. Plus, see rocks, crystals, fossils, gold-mining relics, and desert tortoises. If you feel inspired to become a plant parent after your visit, Moorten's has a nursery for you to take home your own prickly bundle of joy.
Take a windmill selfie
The rows and rows of wind turbines off the I-10 on your way to Palm Springs are almost as iconic to the area as palm trees. If you've ever been curious about what they do, reserve a tour with Palm Springs Windmill Tours to see these 300-foot behemoths up close and learn how they power the entire Coachella Valley.
Tee off after the sun goes down
If you burnt too much daylight at the pool or on hikes and weren't able to get a round of golf in during the day, The Lights at Indio Golf Course has you covered. The Desert's only night-lit course allows you to hit the links after dark.Want more Thrillist? Follow us on Instagram, Twitter, Pinterest, YouTube, TikTok, and Snapchat.
Keisha Raines is a LA-based freelance writer born and raised in the Palm Springs area with a tattoo of the San Jacinto mountains to prove it.