Where to Eat in SF's Chinatown, According to Local Experts
Just in time for Lunar New Year.
Last February, when there were only a handful of COVID cases in the United States, throngs of people stopped going to San Francisco's Chinatown out of an unfounded fear that the neighborhood was more likely to have people with the virus. Business for bars and restaurants almost immediately dropped 50 to 70%. Unfortunately, despite our Chinatown being the oldest in North America and an important part of Chinese culture in the city since it was established in 1848, the tourists stopped going there. And then so did locals outside of the neighborhood. And soon, the bars and restaurants were mostly empty and the owners uncertain of how they could survive.
Joceyln Tsaih, an artist who made her way to Oakland by way of Taiwan and Shanghai, saw what was happening to SF's Chinatown and other Chinatowns in the Bay Area and decided she needed to do something about it. In March of 2020, she created Save Our Chinatowns, an initiative to support Chinatown communities in the Bay Area through art, conversation, and shared love of food.
"I created it as a direct response to the COVID-related racism that was impacting Chinatown businesses in a negative way. I wanted to use my platform as an artist to create a way for people to support them." Save Our Chinatowns originally launched as a GoFundMe fundraiser (eventually raising over $40,000), and soon, a few more women joined Tsaih's grassroots efforts to create art and culture-focused initiatives to benefit their beloved Chinatowns.
Because here's the thing. While Tsaih and the rest of her team believe San Francisco's Chinatown is an important part of the city's cultural makeup, it's more than just that. It's also personal. "I'm not originally from the Bay Area," Tsaih explains. "I grew up in Shanghai, China, so Chinatowns across the US have served as a slice of home from me. Being in a Chinatown environment makes me feel immediately like I'm closer to home even though my family is in Shanghai and Taiwan and I'm very far from them."
"I feel like in Chinese culture and in Chinatown, everything is largely centered around food. That is a big part of how we come together as families and the community and I want people to experience that," she adds. Not sure where to start? Tsaih recommends the famous Dragon Gate. "That area has been kind of tailored to tourists. It's very flashy and fun and an eye-opening way to start your journey." (And it makes for a great Instagram photo as well.)
Want to know where to go from there? We asked the women behind Save Our Chinatowns about their favorite spots and what makes them their go-tos. After all, who better to get recommendations from than people who are using their free time to help save the neighborhood? Here are their picks:
"Kam Po Kitchen is an old-school Hong Kong style eatery that I adore. The staff has a no-nonsense attitude and service ethos that is actually kind of endearing and somehow comforting. It's a spot that is beloved by locals as well. The roast duck over rice is my personal go-to, but everything I've had there has been delicious. As an added bonus, the portion sizes are huge!" – Maya Kulkarni, a Berkeley-based artist and designer who is "very inspired by how food can shape identity."
How to order: Call 415-982-3516.
"Sam Wo is a classic SF staple since it opened in 1907. Its casual, no-frills community has always been my favorite to go to late at night when the lines weren't stupid long. Nothing beats ending your night out more than orders of BBQ pork rice noodle rolls and waiters forgetting to give you water after asking multiple times. Feels familiar and like home." – Linh-Yen Hoang, a Vietnamese-American artist and designer whose work is "informed by her identity and experiences, both ordinary and nuanced."
How to order: Use UberEats for delivery.
"Lucky Creation is paradise for vegans. Everything is plant based and affordable, with a wide range of fake meats. The seasoning is subtle but complex, as opposed to in-your-face flavors of more tourist-oriented spots. You can't go wrong ordering anything with bean curd." – Megumi Tanaka, an interdisciplinary designer, artist, developer, and expert on obscure information.
How to order: Call 415-989-0818.
"When I think of R&G Lounge, I think of sitting at the round tables with family for special occasions. I also think of their signature salt and pepper crab and other Cantonese banquet style dishes. It's a whole experience we've certainly taken for granted in the past." – Daphne Wu, an Oakland-based freelance web designer who is passionate about community building through food, drinks, and storytelling.
How to order: Use Caviar for delivery.
"You can't go wrong with Lai Hong Lounge if you're looking for dim sum. All my favorite dim sum dishes are great here and even their egg tarts are the classic dim sum ones that can be hard to find nowadays! If you're feeling fun you should order the custard buns because they come in the shape of little pigs." – Jocelyn Tsaih
How to order: Use GrubHub, Postmates, or UberEats for delivery.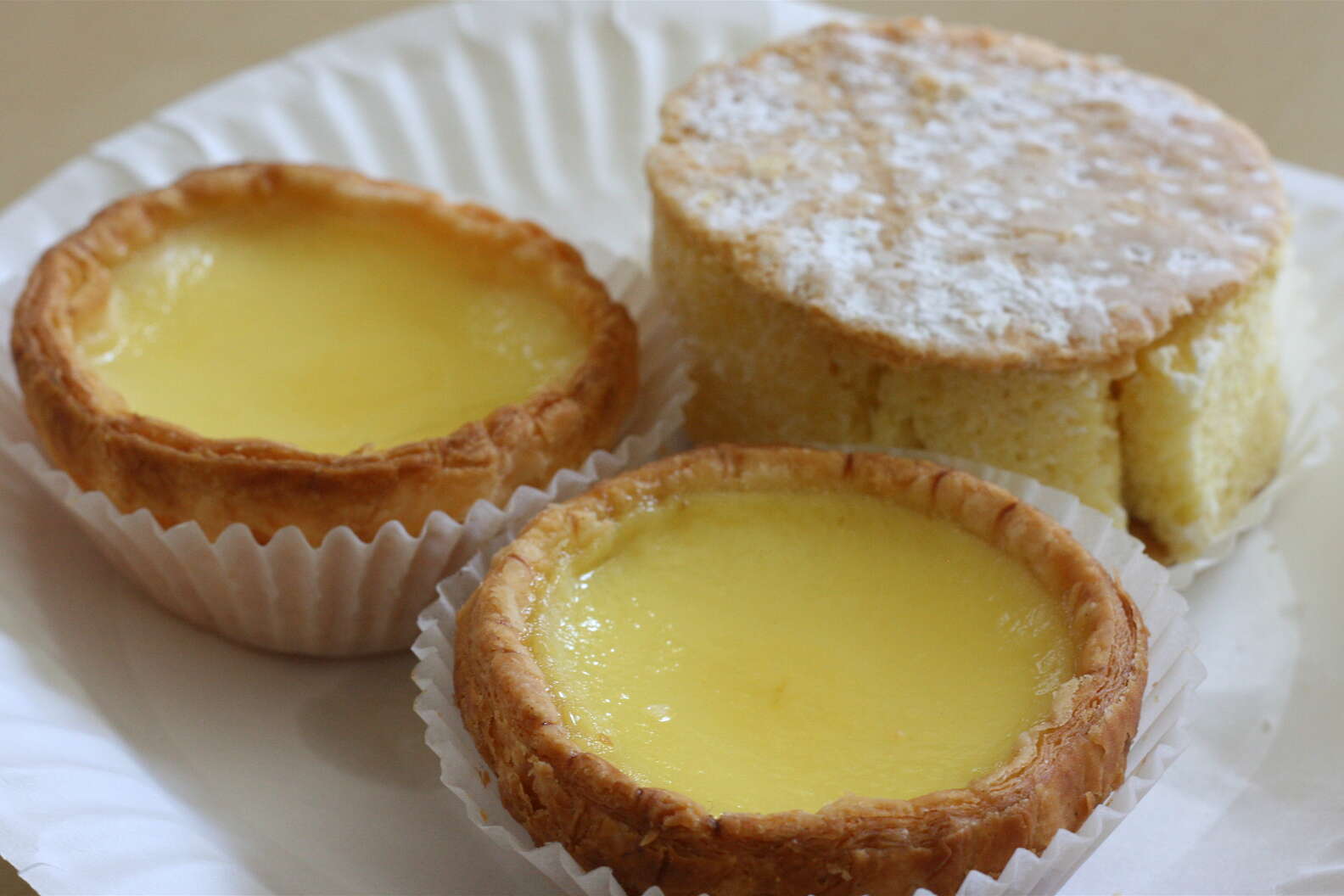 "I'm obsessed with egg tarts, so when I'm in Chinatown, I always try to see if Golden Gate Bakery is open (their hours are very unpredictable), and if not, sometimes I'll get a snack called Dragon Beard Candy. It kind of looks like floss, which is why they named it Dragon Beard, but it's a sweet pastry. I like getting a box of that candy from there." – Jocelyn Tsaih, an Oakland artist by way of Taiwan and Shanghai, interested in utilizing art as a tool to amplify voices, raise awareness, and give back to communities. Her work is a reflection on human connection and identity.
How to order: Golden Gate Bakery is temporarily closed. Call 415-539-7728 for Dragon Papa.
Daisy Barringer is an SF-based writer who was lucky enough to grow up going to the famous Chinese New Year Parade most years. She'll miss it this year. Gung hay fat choy!