SF Date Ideas You'll Both Actually Enjoy Right Now
Spice things up a bit.
Outdoor dining is allowed in San Francisco, which makes eating at a restaurant pretty much everyone's go-to date idea right now (especially since just "getting drinks" is no longer allowed), but if you go out to eat for every date, you're not only going to go broke, you'll have a harder time social distancing, you'll have to abide by the time limits most restaurants are implementing, and you'll seem like you don't have any slightly more original date ideas. Which you totally do! (Thanks to this handy list.) And don't worry-all of these dates are COVID-friendly, follow SF's current directives, and are pretty much guaranteed to be a fun time (at least more entertaining than sitting alone on your couch as yet another weekend passes you by).
Embarcadero
A lot of our favorite places aren't the same because of COVID, but the Ferry Building actually feels pretty close to it. Not all of the restaurants and shops are open, but you can still get oysters on the half shell from Hog Island Oyster Company, snack on cheese and crackers from Cowgirl Creamery, split chili cheese fries and a milkshake at Gott's, get wood-fired bagels with handbatted organic cream cheese at Daily Driver, drink locally brewed beer at Fort Point Beer Co., and grab canned cocktails to enjoy while strolling along the waterfront at Ferry Plaza Wine Merchant. It's the closest we're going to come to any kind of bar crawl for a while, so we'll take it.
Mission Bay
Spark Social SF has pivoted for these times by outlining "social distancing circles" on the lawn, implementing rigorous sanitization practices, and allowing you to order ahead from the food trucks and sip bar, so you and your date don't have to stress out about staying six feet apart from everyone while waiting in line. There are at least 10 rotating food trucks every day and if you really want to earn your grub, you can always sign up for one of the socially distanced group fitness classes on the weekends.
Lands End
You know what's expensive? Dating. You know what's free? Hiking. And thanks to panoramas around every corner, San Francisco turns exercise into an exercise in romance. SF has a bunch of awesome urban hikes, but you can't go wrong with Lands End. Pack a picnic to enjoy on the somewhat secret Mile Rock Beach, try to find the abandoned Octagon House, take in vistas of the Golden Gate Bridge and Marin Headlands, walk the labyrinth, look for shipwrecks, and explore Sutro Baths. Basically, it's like a hike and a treasure hunt all in one.
Golden Gate Park
This 55-acre "urban oasis" is home to more than 9,000 kinds of plants from around the world, as well as lots of hidden nooks in case you're looking to get away with a little PDA without so much of the "P." It's also got plenty of places to spread out and enjoy a picnic or a nap in the sun, and if you and your date are SF residents, you can both get in for free.
Mission Bay
Stagecoach Greens, SF's only outdoor miniature golf course, is open for golfers with pre-purchased tickets and reserved tee times, and is the perfect opportunity to see how your date handles a little friendly competition while also picking up some new knowledge about everything from the Gold Rush to our famous fog. The 18-hole "Boom & Bust" course offers surprises at every turn, plus some cute selfie ops, so you never forget that strange time when you dated while wearing a mask.
Lodi
When you think of Wine Country, you think of Napa and Sonoma, which are beautiful and luxurious and oftentimes really crowded. Since crowds are a thing we're trying to avoid these days, head to another Northern California wine region that flies under-the-radar, but also has lots of award-winning wineries and small town charm. Lodi has over 85 boutique wineries, many of which produce hearty zinfandels, an adorable downtown with cute restaurants, and, if you're at the spending the night part of dating, lots of quaint Airbnbs and hotels. A few of our favorite spots to visit are Oak Farm Vineyards where you can enjoy wine under 300-year-old oak trees with views of the vineyards; Harney Lane Winery & Vineyards where you can drink wine and eat cheese in a serene garden; and Michael David Winery, an over 150-year-old family winery with a quirky vibe, expansive grounds, and an outdoor bistro.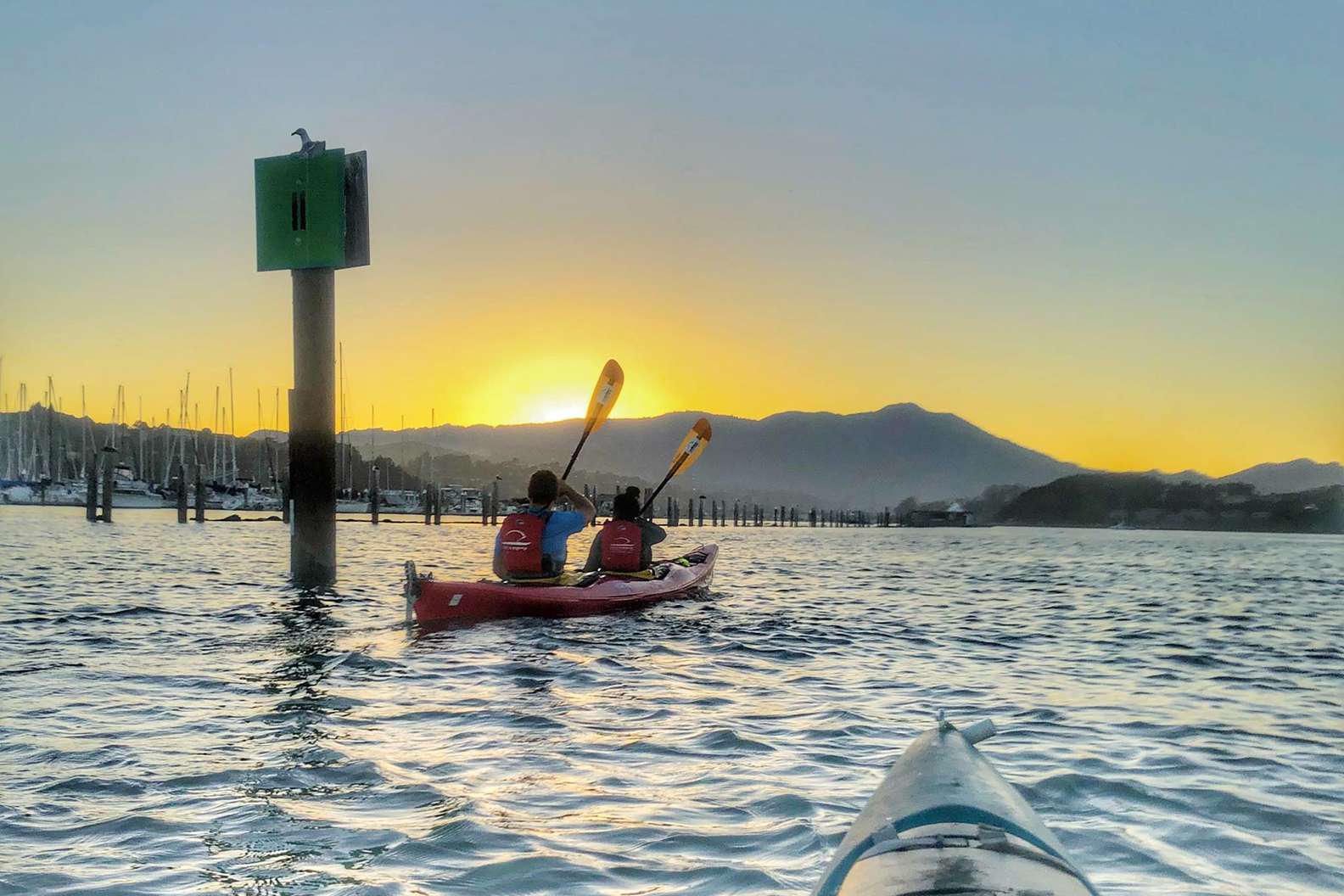 Sausalito
One of the fastest ways to find out if you're compatible with someone is an activity that requires cooperation and teamwork and you'll definitely need both during Sea Trek's "Paddle the Gate" kayak tour, during which you and your date will slide into a two-person kayak and paddle under the Golden Gate Bridge and along the shore of the Marin Headlands. If you want to seriously up the romance factor, opt for the "Full Moon" kayak tour when you and your potential partner will glide through the waters off of the coast with only the light of the moon to guide you. (Don't want to wait for the next full moon? There's also a "Starlight" kayak tour for the impatient.)
Half Moon Bay
Sea Horse Ranch is a fun option for those getting back in the dating saddle. Right now, it's open for scenic trail rides along the Coastal Equestrian Trail in Half Moon Bay (all the views of the beach and ocean without any of the sand), as well as trail rides that go along that bluff trail and then down to Poplar Beach. All of the rides are appropriate for beginners; you just have to make sure your date is willing to hoof it down to Half Moon Bay. After, stop at Sam's Chowder House for lobster rolls and cold beers on the cliffside patio overlooking the Pacific.
Pacifica
We wouldn't normally suggest taking your date to a Taco Bell, but when that Taco Bell is the world's most beautiful Taco Bell and serves beer, wine, and boozy frozen drinks, the rules change. This Taco Bell looks nothing like other Taco Bells, and we say that in a good way. Granted, you won't be able to appreciate the tiled ceiling or exposed wood beams inside of the 1960s rustic wood structure, but you can appreciate the walk-up window and the wooden deck with tables and chairs that overlooks the Pacific Ocean. (There's even "surfboard parking" if you and your date decide to paddle out first.)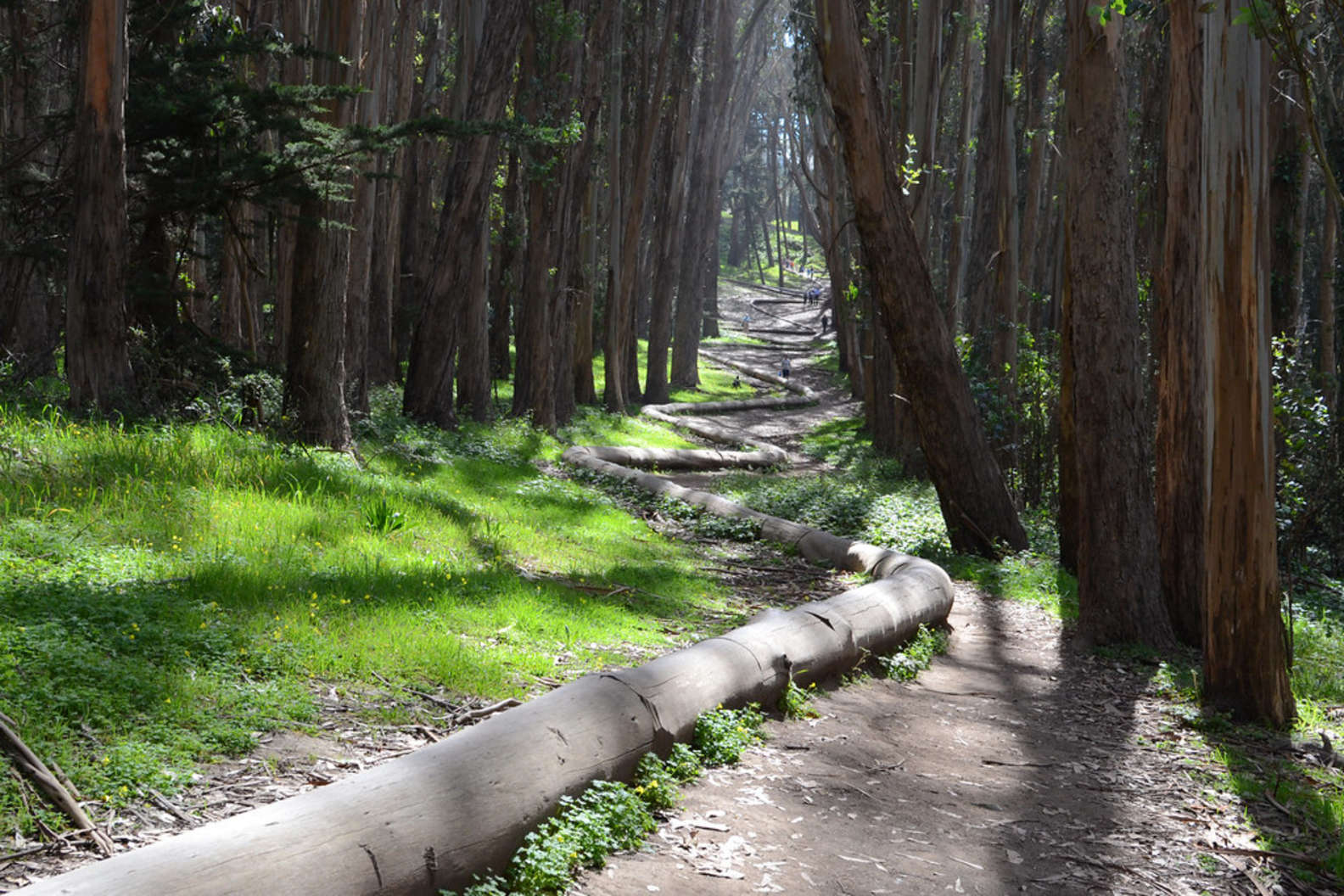 Take a stroll down Lovers' Lane
Presidio
The Presidio is full of urban hikes, most of which don't get that crowded. Start with one of those and then, If things are going, head over to Lovers' Lane and work up the nerve to hold your date's hand. Be sure to take a detour to see Andy Goldsworthy's Wood Line installation and then finish at the Main Post Parade Ground where you can put a blanket down on the grass and enjoy a picnic with Bay views.
Golden Gate Park
The oldest public Japanese tea garden in the U.S. is open to 100 visitors at a time with one-way paths of travel over stepping stone paths and past pagodas, Japanese plants, and koi ponds. Want to have the conversation about your relationship status? This is the perfect place as it's pretty much impossible not to be centered and calm. (It's also a good break-up spot since no one would dare raise their voice in such a serene spot, but hopefully it doesn't come to that.)
Ferry departs from Fisherman's Wharf
This island that was once home to Native Americans, a quarantine station during the Bubonic plague, and an immigration station where Chinese, Japanese, and other Asian immigrants were detained, is now a huge state park with tons of amazing hiking trails, including one that takes you to the peak of Mt. Livermore and has views of the entire island and much of the Bay Area. Unfortunately, all of the historic buildings are currently closed and camping isn't allowed, but the cafe is open for takeout food and drinks.
Grab a burrito and beer to enjoy at Dolores Park
Mission
It doesn't get more quintessentially San Francisco than eating a burrito, drinking a beer, and people watching while enjoying the almost-always-there sunshine at Dolores Park. Right now there are socially distanced circles on the lawn, so you and your date can don't have to stress about crowds, and if either of you have dogs, you can bring them and sit in the off-leash area since how a person gets along with your dog is really the most important factor there is when it comes to looking for a person you'll maybe one day be sheltering-in-place with.
Lakeshore
Some residents at the zoo do just fine without human visitors, but a lot of the ones that tend to interact with people have been a little lonely while forced into isolation. Cheer them up (and yourself and your date) by taking a trip to the zoo. Our zoo is home to over 2,000 exotic, endangered, and rescued animals, and is probably the only place you're going to see lions and tigers and bears any time in the near future. Just be sure to purchase your tickets in advance, as all entries happen at specified times.
Peacock Meadow, Golden Gate Park
"Entwined," an illuminated art sculpture by a local artist, lights up every day from dusk until 8:30 pm. Have a little picnic with wine and cheese on the lawn in front of the Conservatory of Flowers, and then, when the sun sets, make your way to Peacock Meadow to wander among the enchanting "trees" and "bushes" that change colors as you go.
Check out the murals in the Mission
Balmy Alley and Clarion Alley
There are murals all over San Francisco, but if you want to see a bunch of them all in one place, Balmy Alley and Clarion Alley in the Mission are the places to go. The murals are ever-evolving and changing, but if you look closely, you'll see colorful and powerful pieces that address topics like human rights, local gentrification, community spirit, calls for justice, and more. The alleys are a little over a mile away from each other, so may we recommend at stop at Señor Sisig to enjoy some loaded nacho fries and a beer or Smitten Ice Cream for a freshly churned scoop salted caramel in a waffle cone to eat as you walk?

Larkspur
Going to the mall hasn't been a good date idea since eighth grade, or really ever, but desperate times… Plus, the Marin Country Mart is hardly a mall. It's more of an open-air shopping and dining destination… okay, fine, it's basically a mall. Still, it's a "mall" with all kinds of shops to peruse, a farmers market on Saturdays, and lots of snacking opportunities, including Johnny Doughnuts, Miette, Shake Shack, and Marin Brewing Company. Who knows, maybe one of you will even be brave enough to reach for the other person's hand!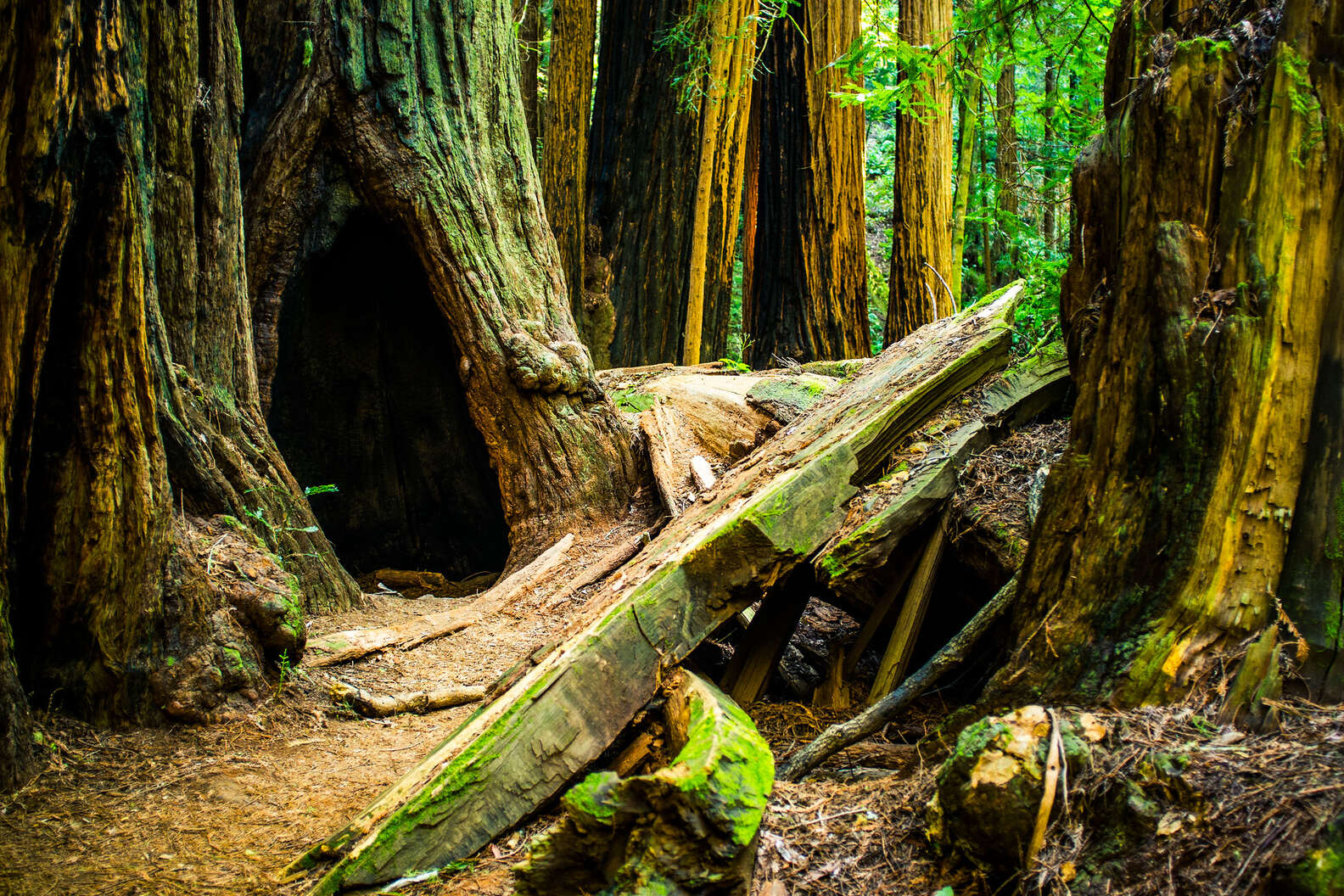 Mill Valley
Okay, so the Ewok scenes in "Return of the Jedi" weren't actually filmed in Muir Woods, but they sure could've been, and since Ewoks live in all kinds of redwood forests, there's no reason you might not spot one at this national park famous for its towering old growth redwood trees. And, hey, even if you don't come across Wicket or one of his family members, at least you'll still get to enjoy miles of hiking trails in a completely magical setting. (Just don't forget that reservations for Muir Woods are now required, so you and your date will need to decide on a time and arrive within 30 minutes of your window. A perfect opportunity to find out if the person you're seeing is punctual!)Sign up here for our daily San Francisco email and be the first to get all the food/drink/fun SF has to offer.
Daisy Barringer is an SF-based freelance writer who has given up on dating during COVID (and maybe even not during COVID), but still likes to do everything on this list. Follow her on Instagram @daisysf.